Alarm Installation & Monitoring in Mildura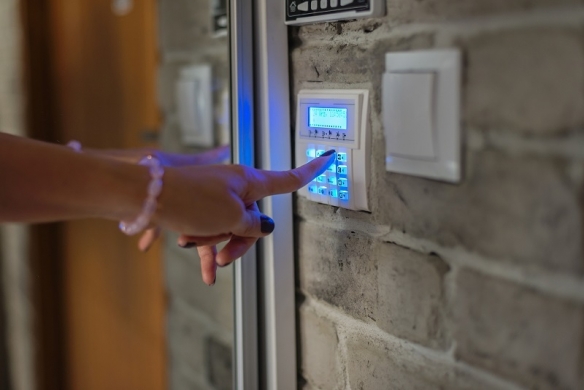 Secure Peace is the leading service provider for security alarm installation and monitoring for the residential and commercial units throughout Mildura and Broken Hill.  Our alarm systems are trusted because of our reliability since we install the best quality equipment.
Alarm Installation Services in Mildura and Broken Hill
Residential and commercial security alarm systems suitable for your Mildura and Broken Hill have to be all effective, responsive, and user friendly for one and everyone. At Secure Peace, we are supplying and installing security alarm systems, whose designs are modern and easy to use. Our installers can easily get them connected to the required security devices, which include:
The magnetic switches are in two parts for fitting them on either side of the windows and doors. When you open the doors or the windows, the magnetic parts are separated and then the alarm gets activated.
Passive Infra-Red Detectors (PIRs):
The PIRs are the security devices for detecting movement or swift temperature changes caused by a moving body through the infra-red beams.
These could be either "hard-wired" or wireless; the duress buttons emit an alarming sound once the buttons are pressed. These are wired for 24/7 hours operation. The duress buttons are highly useful for the elderly and those who are living alone.
Once the smoke detectors are installed, they constantly service to sample the air to detect the presence of smoke. Just as the smoke is detected, the alarm is activated. These are wired for 24/7 hours operation and they will even function when the alarm system is turned off.
Types of Security Alarm Systems Installed
Secure Peace is the most trusted firm in Mildura and Broken Hill for our righteous home and business alarm system installations. The different types of security alarm systems, features, services are suitable for different applications, which include:
Wireless Alarm Systems
CCTV System Installation
Hard Wire Security Alarm System
Industrial Security Alarms
Back to base monitored alarms
Multi-area and user Security alarms
Alarms that call a mobile phone
Motion Detection Alarms
Smoke Alarms
Panic Buttons
Medical Alarm Systems
Security Systems for Government Buildings
Holdup Button Alarms
Water Level and Temperature Alarms
Integrated Access Control Systems
Receive our services for your own security. Give us a phone call or to receive a free quote, fill this form up.